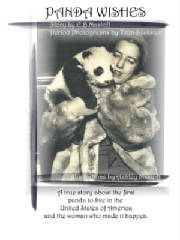 What a wonderful story!
Love pandas? We do too, and we want to share our history of the first American Panda with you!
Let Su Lin warm your heart with love and a little bit of something precious--you can buy a book right here! I am the author, E B Masloff. I am the Grandchild of photographer Teen Becksted. He was a friend to Ruth Harkness and he knew her well enough to be asked to do many private photo shoots. You may have seen a picture of Ruth and Su Lin on a can of Quaker Oat Meal, touting she was the Great American Explorer! Teen was there!
IF you want to see more on my books available now, you can, by
just clicking on the word "storytime"--at the top of the page--
thanks ! and Panda Wishes!
animated cd story book available--see a preview here soon
Abridged version for Students and Teachers
:You will learn about Ruths travel to China and the funny and exotic places she stayed with Su Lin from camping to castles it is a fun story. History is great for teens too! Email me if you need special homework or report help-- You'll get an "A"
Click here for references and other sources for this history available today