What's New

Your new book is ready! exclusively at the Candle Connection to the public, but as the Author I reserve special rights to print, and publish my own books, art works and writing. All rights reserved, copyright pandawishes2002.
Hard bound full color collector copy 25.00
The Complete version: The one for the enthusiast!,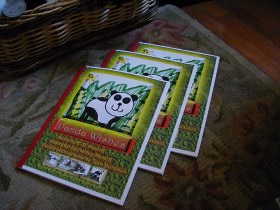 Children's club!! Just for summer Journals !!
just ask and well put your name on it!!
dedicated to your favorite zoo, A $5 DOLLAR DONATION INCLUDED!
Or join for $19.95 Ashley's book club, her stories and the children's edition of "panda wishes" designed for the basic knowledge, plus activites, and a journal!
Bonus t-shirt with gift of four or more.Collector edition with framed prints "see sponser a panda, or a wish"....coming soon!
Thanks for your interest in Pandawishes, I look forward to email you,
E. B. Masloff ~ author and publisher